We get it, life gets busy! From job deadlines to picking up the kids from sports, it's easy to push booking a family vacation to the backburner. But before you know it, spring break and summer will be here and the best vacation rentals will already be booked. Instead of hunting for the perfect 2023 vacation rental in New Smyrna Beach, we've compiled a few NSB homes and things to do to save you time and cut down on research.
New Smyrna Beach is an amazing vacation destination with fantastic local restaurants, beaches that are not crowded, family-friendly vacation rentals, and so much more. In a destination like this, you can imagine how fast our vacation rentals book. If you want to ensure that you get the beach vacation of your dreams, you need to book your stay soon!
Sip a glass of wine on the balcony of Ocean Dream and relax on your luxury summer vacation. Unwind in the spacious living room with calming coastal décor. The breathtaking ocean view while you're lounging on the sofa is the only entertainment you will need. The updated kitchen has everything you will need for all of the delicious meals you will cook. With 6 bedrooms and 5.5 bathrooms, everyone in your family will have the space for their getaway. Book your stay at this luxury NSB beach house before anyone else!
Spend your summer vacation gazing at the ocean from the balcony at the LaKaSa House on Hill Street. This 4 bedroom and 4.5 bathroom home is the perfect private getaway for large groups or families. With a wrap around porch and an incredible view of the beach, you will want to snag this beach house before anyone else this summer! Make amazing memories with the beach in your backyard and a 5-minute drive to Flagler Ave.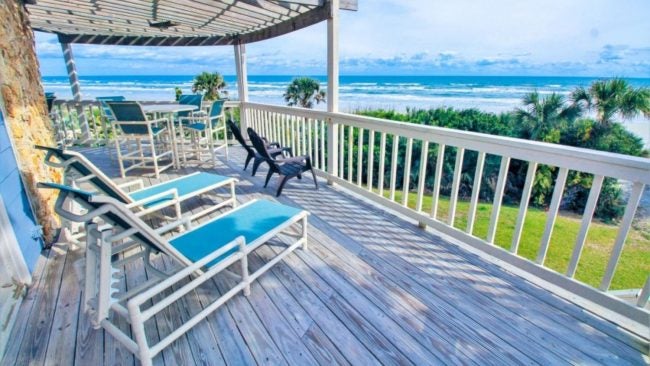 This breathtaking two-story private home is the perfect stay for your summer vacation. Spend your summer nights relaxing on the deck looking off to the ocean. This charming home is perfect for a group of 8. With private direct beach-access, you can walk to the beach at ease from the Decked Out House On Hill St. Watch the waves roll in on your private luxury vacation in NSB, book your stay before anyone else!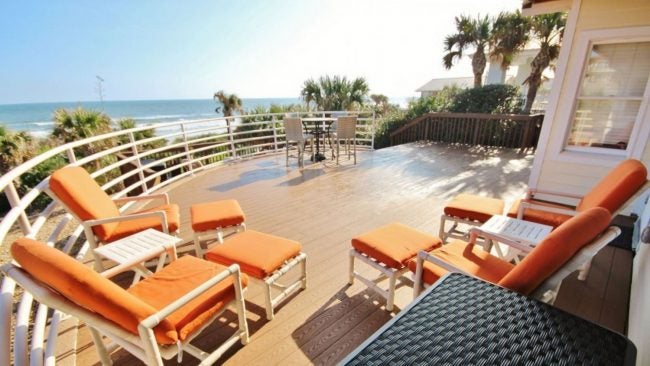 With Great Ocean Condos and Homes, we ensure every step of the vacation planning process is seamless and stress free. Our team of vacation planners are ready to assist you in finding your dream vacation rental. Our website displays updated pictures, detailed descriptions, and allows you to search and filter based on desired amenities. Hurry and book these stays before they're gone!
While you're in New Smyrna Beach, enjoy some of the local restaurants and relax on the beach's golden shore. Some of the most popular restaurants in NSB are The Breakers, Chases on the Beach, and Norwood's Eatery and Bar Treehouse. These restaurants are loved by locals and recommended to travelers for a reason! There are many beautiful beaches to visit in New Smyrna Beach such as the New Smyrna Town Beach, Smyrna Dunes Park, and Apollo Beach.
Avoid the stress of planning your 2023 vacations last minute. Plan your New Smyrna Beach stay with Great Ocean Condos and Homes today.